Christmas Party Venue in Heart of Dublin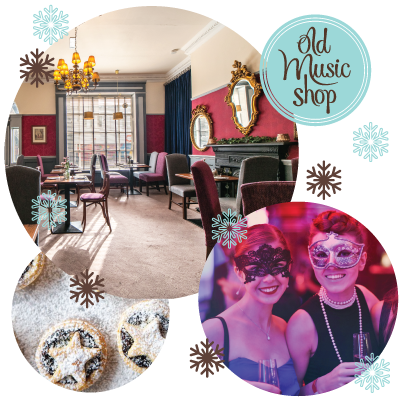 We have Christmas Lunch and Christmas Dinner all wrapped up for your Christmas Party. Relax in our spacious restaurant, chosing from Festive Afternoon Tea, Christmas lunch, Christmas Dinner or Party Platters.
Talk to
Trevor
and
Tom
about your budget and your requirements direct by phoning on
01 879 7888
or
emailing
today.
Click our Christmas Party 2019 Menus Below:


From €22.95 per person sharing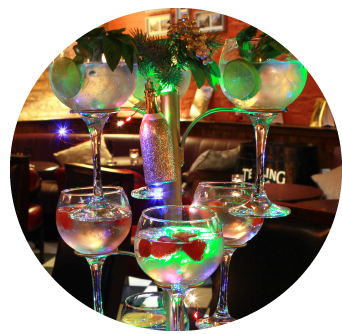 Where to host my Office Christmas Party in Dublin City Centre?
The Old Music Shop Restaurant and the Castle Vaults Bar and Restaurant are the perfect venue in Dublin to host your Christmas Party in Dublin City Centre this year.
We can help your company, business, social group, organisation or charity celebrate their Christmas festive season with a Christmas Party Lunch or Christmas Party Dinner in our spacious restaurants and private dining rooms. The Old Music Shop Restaurant can host large or small parties and groups.
What time are you serving Christmas lunch?
The Old Music Shop Restaurant, Dublin is serving Christmas Set Menu Lunch between 12 to 4pm to groups of 5 or more. Christmas Dinner is served from 6:30pm.
Can we order Christmas Platters?
Yes you can order Christmas Platters. We understand that not every Christmas party wants a sit down meal in a restaurant. It can be a challenge to get everyone to agree. Just reserve seating in our Castle Vaults Bar (downstairs) and order our Christmas Platters from €13.95 (8 people min). Platters include delicious savoury hot finger food, sweet mince pies and of course Christmas crackers. See our Christmas Party Platter Menu and don't forget you can order a Gin Tree for €89 or a Prosecco Tree for €49 for nine glasses.
What's a Prosecco Tree?
We have this fabulous metal tree that delicately holds flutes of prosecco - this is a great add on for our Festive Afternoon Tea served in the Old Music Shop Restaurant in Dublin from November 6th to January 6th 2020. Our Festive Prosecco Tree is €49 with 9 glasses to accompany your cream tea (sold separately). It can also be booked to accompany a Christmas Lunch booking too.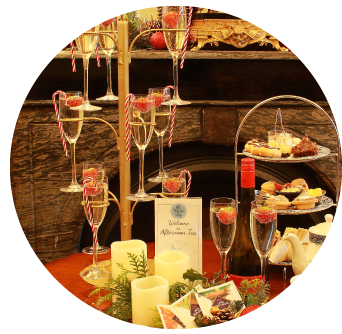 How can I pre-book at Gin Tree with Festive Afternoon Tea?
If you already have a booking over the Christmas period and would like to add on the fabolous 9-Glass Gin Tree with Botanicals then simply email yvonne@castle-hotel.ie or ring +353 1 879 7888

Christmas Lunch & Dinner groups may include 10% Service Charge on parties of 6 people or more.
50% Booking Deposit required to confirm. Final Balance due 7 days before.
Drinks Packages also available | Bespoke Packages available on request.
Need some Christmas Party Game Ideas?
There are so many ways to inject some fun into the Office Christmas Party with various games.
For years in Dublin, office co-workers have been doing Kris Kindle or Secret Santa but have you heard of White Elephant Party Game (Dirty Santa)? It's not your typical gift exchange game because anyone could go home with the gift you bring!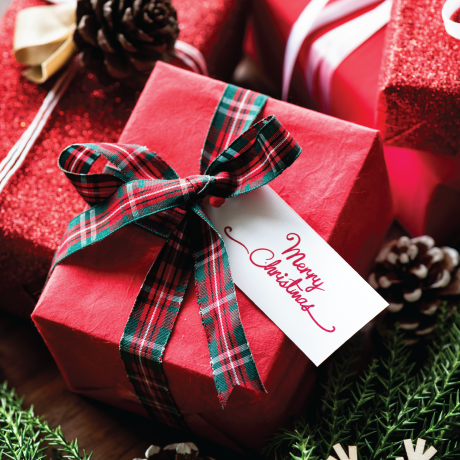 White Elephant Party Game Guide
Everyone at the Christmas Party brings a wrapped gift. It's got to be suitable for every party attendee. Usually the group will have agreed a maximum amount to be spent or even a theme (er...eighties).
Place all the gifts on a table for everyone to see.
First person gets to choose any white elephant gift and open it. They must let everyone see this gift.
Person to their left, can either choose another gift or STEAL the first persons gift!
If you steal another player's gift, that person gets to steal a gift from one of the other players. However, they aren't obliged to.
Okay so after two swaps, it's on to the next players turn. Yes there could be tears, but we hope there will be laughter!
The game should go full circle, arriving back at the first player who has the option of stealing, only if there are no new gifts on the table.
The game comes to an end and you'll be 'stuck' with your gift when someone says they're happy with theirs and aren't going to try for another.