About Us
The Old Music Shop Restaurant located just off Parnell Square North, on North Frederick Street in Dublin's cultural quarter, is part of Dublin's oldest hotel, The Castle Hotel. The Castle Hotel is a family owned and run business. Fionn MacCumhaill has been at the helm for over 30 years, and is passionate about architecture, history and genuine Irish hospitality.
Set in stylish and spacious adjoining rooms, the Old Music Shop restaurant showcases magnificent Georgian-era architecture (1714 – 1830) and features such as the quintessential Georgian Dublin Door (pictured).

Our restaurant is named after the landmark music store, Walton's, which it housed for over 80 years. The store, which opened in 1924 was home to Ireland's first music school, the Dublin College of Music, and their mantra "if you're going to sing a song, sing an Irish song" is still remembered throughout the world.
The music shop was established by Martin Walton, a talented musician, who at the age of fifteen had been a volunteer in the 1916 Easter Rising and later a bodyguard to General Michael Collins in the War of Independence. At that time, Collins and Walton were frequent guests in the adjoining Castle Hotel.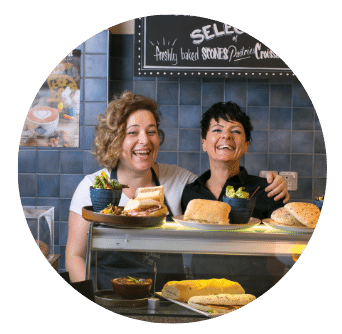 When Walton's announced the closure of their shop in 2013, there were fears that it was the end of an era for this landmark building. In 2014, however, Fionn MacCumhaill, owner of the adjacent Castle Hotel, re-opened the much-loved music shop as a restaurant, with an emphasis on honest food and casual dining.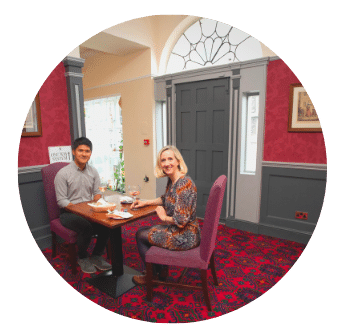 There are now four interlocking dining spaces with additional seating in our garden courtyard and, also on North Frederick street. Downstairs in the original red brick vaults of the Georgian house is our fully licensed Castle Vaults Bar and Restaurant, which has live traditional Irish music most nights with a warm welcome. Patrons of the Old Music Shop can also enjoy the Castle Vaults Dinner menu, on request.
The Old Music Shop Restaurant serves up a mix of modern European cuisine with Irish favourites. Popular dishes include Baked Salmon, St Tola Goat's Cheese and Fig Salad as well as classic like Irish Beef Steak, Full Irish Breakfast and Seafood Chowder served with Homemade Guinness Brown Bread. In recent years our restaurant has become a popular Afternoon Tea destination in Dublin.
We use the very best of Irish produce, served simply and fresh as can be. Our beef is sourced from a limousine herd in Tipperary, our chickens are sourced in Monaghan. Our seasonal vegetables and potatoes are sourced from farms in North County Dublin.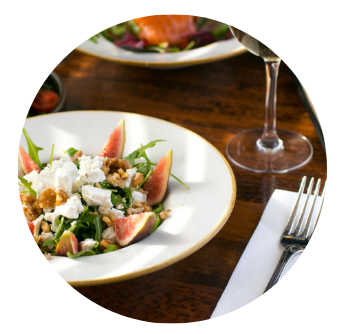 Our carefully selected wines complement our food and our knowledgeable staff are always on hand to offer their advice on your selection. The beer list focuses on local breweries and we offer some of the finest food-matched craft ales and stouts. Cocktails are mixed by our team in the Castle Vaults, downstairs and offer a Dublin twist.
---

Dine in Dublin's
Cultural Quarter
To the North of O'Connell Street lies Dublin's Cultural Quarter, packed with visitor and cultural attractions in around the Georgian-era streets and squares.
The Old Music Shop Restaurant is conveniently located near the Gate Theatre, the O'Reilly Theatre, the Hugh Lane Gallery, the James Joyce Centre, Dublin Writers Museum, the Abbey Theatre and the Teachers' Club.

The restaurant is also near the Garden of Remembrance, Dublin Tenement Experience, Savoy Cinema, Ambassador and GPO Witness History Visitor Centre. We are in walking distance of Croke Park Stadium and GAA Museum.
Just outside, on Parnell Square North, festivals and parades such as St Patrick's Day Parade or LGBTQI Dublin Pride Parade take place annually.