---

PANCAKE TUESDAY
PANCAKE
SHARING TREAT BOX MENU
€25 - Feeds Four
21st February 2023
PANCAKES
THE STACK
Homemade Sweet American Style Fluffy Pancakes
E. M. Wh.
---
TOPPINGS
SELECTION OF FRESH FRUITS
Strawberries | Blueberries | Raspberries | Lemon Twist
DRIZZLE
Nutella | Maple Syrup | Biscoff
White & Milk Chocolate Sauces
M. Hazelnut. Wh. So.
SWEET
Kinder Bueno | Marshmallows | Oreo Crumb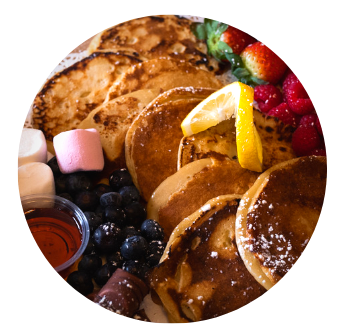 Make their eyes pop when you open this
take-away Pancake Box
with all the toppings.
Let them build up the flavours,
with a little bit of something for everyone.
This generous box feeds 4+ and is available weekends between 11am and 3pm.
Pre-order on Friday.
---

TAKE AWAY
DRINKS
ORGANIC HERBAL TEA INFUSIONS
Irish Breakfast | Wild Berry | Earl Grey |
Moroccan Mint | Ginger & Lemongrass
Green | Camomile | Gunpowder & Mango
From €3
ORGANIC HAND ROASTED COFFEE
Mexican El Jaguar is a vibrant coffee with a juicy mouthfeel,
this Single Origin features citrus notes of
Blood Orange, Melon & Sweet Sugarcane. From €2.80
SOFT DRINKS | JUICES €3
Coke, Diet Coke, Sprite, Fanta & Mineral Water
Apple, Orange and Cranberry Juice
---
INDULGE
PROSECCO
€8.50 Glass | €32 Bottle
GORDONS PINK GIN
Fever Tree Tonic | Strawberry & Mint €9.50
SAUVIGNON BLANC
Saint Marc Reserve | France
€28 Bottle
SANGIOVESE
Farnio Montepulciano | Italy
€34 Bottle
---
Pre-Order on Fridays Please:
Phone: +353 1 874 6949
Email: info@castle-hotel.ie

Saturday | Sunday Only
Or by prior arrangement
Collect Between 11am and 3pm

Delivery Extra €7 | Menu Subject to availability / change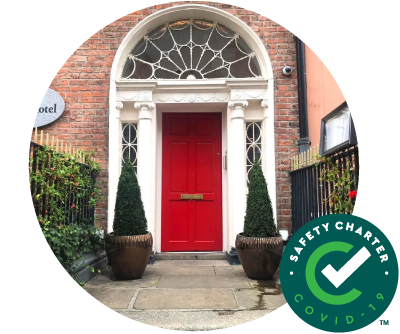 ---
Allergens: Wh Wheat, Ba Barley. Oa Oats, Ry Rye| Ce Celery | Cr Crustaceans | E Eggs | FFish | L Lupin | M Milk | Mo Molluscs (Shellfish) | Mu Mustard | N Nuts | P Peanuts | SeSeSesame Seeds | So Soybeans | Su Sulphites | SD Sulphur Dioxide |