Served 5pm - 9-m | Wed - Sun
Old Music Shop Restaurant | Off Parnell Square North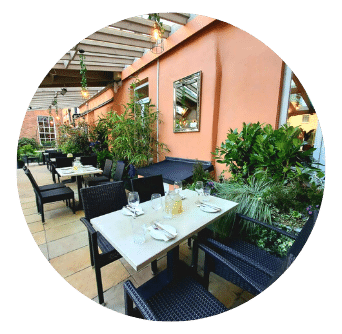 A LA CARTE MENU


(V) Chef's Hearty Soup of the Day
Wheaten Soda Bread | M Wh | €6.50
Prawn Cocktail
Fresh Water Prawns | Baby Gem | Marie Rose Sauce | Fresh Chives | Cr M | €9
Chicken Wings Wings
Hot & Spicy Sauce | Green Chillies | Toasted Sesame Seeds | Blue Cheese Dressing | Celery Stick | Ce E M Mu SeSe | €8
As a Main Course €12
Roasted Beetroot & St Tola's Goats Cheese Salad
​Mixed Leaves & Greens | Balsamic Vinegar | Toasted Walnuts | M N | €8
As Main Course €16
Tapas Sharing Plate
Prosciutto | Potted Ham Hock | Salami | Manchego, Blue & Porter Cheddar Cheeses | Roasted Mediterranean Vegetables | Olives | Cornichons | Assorted Fruits | Olive Oil, Spicy Relish | M Su Wh | €15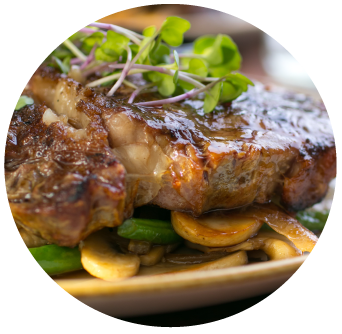 Fresh Cod & Chips
€16
5 Lamps Irish Craft Beer Batter | Tartare Sauce | Skinny Fries |Garden Salad | E F M Su Wh
(VG) Vegan Burger
€18
Brioche Bun| Lettuce | Tomato | Onion Rings | Homemade Chips | Oa Wh
Bacon Cheese Burger
€19
Brioche Bun | Lettuce | Tomato | Onion Rings | Homemade Chips | Ba M Wh
Burgers may take up to 20 mins during busy periods
9oz Irish Ribeye Steak
€27
Sautéed Mushrooms & Onions | Brandy Peppercorn Sauce | Homemade Chips | M Su
Steaks may take up to 30 minutes during busy periods
Our Beef is farmed from Limousin Cattle in County Tipperary, Ireland.
€6 Supplement applies to Set Menu
Seafood Tagliatelle
€19
Fresh Salmon & Cod | Smoked Coley | Freshwater Prawns | Fresh Cream | White Wine | Parmesan | Mixed Herbs | F Cr WH M E


€3.50 Per Portion
Side Salad | Onion Rings | Home Fries | Fresh Vegetables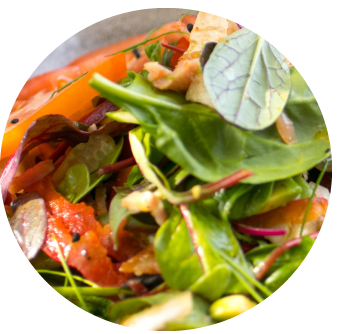 Warm Chicken & Bacon Salad €16
Marinated Chicken Breast| Bacon Lardons| Dressed Mixed leaves | Roasted Mixed Peppers | Cherry Tomatoes | Toasted Pine Nuts | M Mu
Ginger, Lime & Coriander Chicken €16
Fresh Peaches | Dressed mixed leaves | Soy sauce |Toasted sesame oil | N: SeSe So
(VG) Korean Green Salad €15
Dressed Mixed Leaves | Nashi Pear | Cucumber | Red Onion | Korean Salad Dressing | Toasted Sesame Seeds | N:SeSe So
(V) St Tola's Goats Cheese & Beetroot Salad €16
Rocket | Lemon & honey Oil| Toasted Walnuts | N M
All Salads served with the House Breadbasket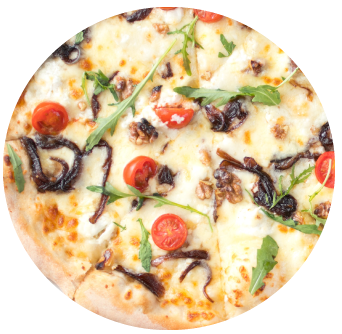 All our Pizza are 12" of freshly hand kneaded dough

(V) Margherita
€12.50
Tomato Sauce | Fresh Irish Mozzarella | M, Wh,
(V) Wild Mushroom Pizza
€14.50
Truffle Béchamel | Fresh Irish Mozzarella | Onion Purée | Truffle Oil | Torn Basil | M, Wh
Pepperoni
€13.50
Tomato Sauce | Irish Mozzarella M, Wh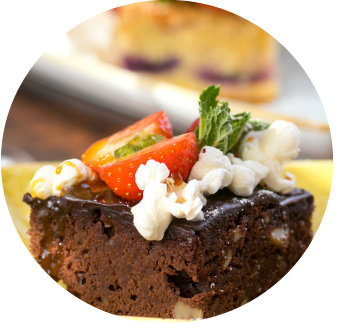 Summer Berry Crumble €7.5
Passion Fruit Anglaise | Vanilla Ice Cream | M, Wh
Chocolate Fudge Brownie €7.5
Salted Caramel Ice-cream | Caramel Popcorn | Toasted Walnuts M, N, Wh
Strawberry & Pimms Pavlova €7.5
Fruit Coulis | Fresh Cream | M

Gordon's Pink Gin & Tonic €9.50
Premium House Wine €7
Glass Belsazar Rosé & Tonic €9.50
Irish Coffee €8
(Su)
Our A La Carte Menu at the Old Music Shop Restaurant in Dublin allows you to choose from a wider selection and mix and match items you may have seen on our set menus. Our Menus change over the course of the year to reflect seasonal changes in produce and ingredients. We pride ourselves of bringing you Irish traditional Cuisine in the heart of Dublin's Cultural Quarter, just off Parnell Square. Dine safely in our heated Garden Terrace.
For Reservations please:
Phone: +353 1 879 6949
Email: info@castle-hotel.ie
Or


Old Music Shop Restaurant
At The Castle Hotel, Great Denmark Street, Dublin 1