Valentines
Afternoon Tea in Dublin
Old Music Shop Restaurant at the Castle Hotel, Dublin 1
Limited Availability
Pre-Order before noon 10th Feb 2022

ORDER, COLLECT & ENJOY on Sat 12th, Sunday 13th or Monday 14th February 2022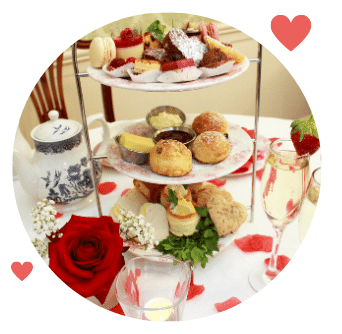 MENU

€59 for Two
Includes Bottle of Prosecco

---
SAVOURY

FREE RANGE CHICKEN & STUFFING
Brioche Bun
M. Wh
SMOKED SALMON & CREAMED CHEESE
Vol Au Vent
F. M. Wh
HONEY ROAST HAM & MUSTARD
Brown Bread
M. Mu. Wh
ORGANIC EGG & WATERCRESS
White Bread
E, M, Wh
---
SWEETS
FRESHLY BAKED HANDMADE SCONES
Fresh Cream | Preserves M. Wh

TO INCLUDE SELECTION OF MINIATURE DESSERTS
Chocolate Covered Strawberries
Red Velvet Cake
Cheesecake Pots
Raspberry & Coconut Tartlet
French Macarons
Orange Mikado, apple & Blackcurrant & Coffee Chocolate Petit Fours
Heart Shaped Chocolate Brownies
E. M. N. Wh
---
DRINKS
ORGANIC TEA SELECTION
Java Republic Herbal Teas | Black Tea
BOTTLE OF PROSECCO
Rialto Prosecco, Veneto, Italy
A light fresh sparkling wine that has a nicely balanced structure,
lightly floral aromas and attractive fruit flavours
Su
Allergens: Wh Wheat, Ba Barley. Oa Oats, Ry Rye| Ce Celery | Cr Crustaceans | E Eggs | FFish | L Lupin | M Milk | Mo Molluscs (Shellfish) | Mu Mustard | N Nuts | P Peanuts | SeSeSesame Seeds | So Soybeans | Su Sulphites | SD Sulphur Dioxide |
---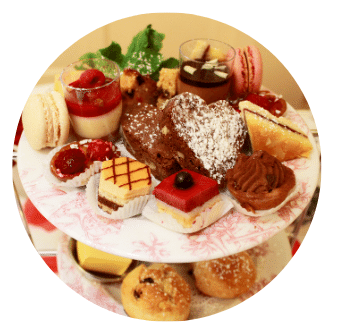 Why Not Add.....
PROSECCO
Additional bottle €32
SAUVIGNON BLANC
Saint Marc Reserve | France
€28 Bottle
SANGIOVESE
Farnio Montepulciano | Italy
€34 Bottle
Or Order a Coffee to Go when you collect your Valentines Afternoon Tea at Home Box.
---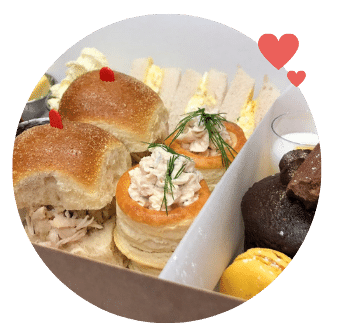 To Order:
Phone: +353 1 879 6949
Email: info@castle-hotel.ie

Our Afternoon Tea at Home Restaurant Boxes are made freshly to order. Due to staffing during Covid19 we will be making a limited number of 15 boxes Only. We recommend ordering early to avoid disappointment. Order before 12 noon on 10th February 2022. Organise a time with our Castle Hotel Reception Team.
Castle Hotel, Great Denmark Street, Dublin 1