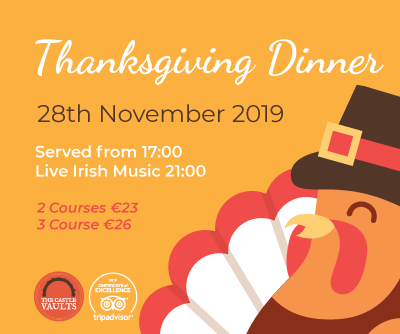 Thanksgiving Dinner 2019
Set Menu
at
Old Music Shop Restaurant Dublin
& Castle Vaults Bar & Restaurant Dublin
North Frederick Street | Just off Parnell Square | Dublin 1


New England Clam Chowder
with Homemade Irish Brown Bread
Crispy Hot & Spicy Buffalo Wings
with Blue Cheese Dressing
(V) St Tola's Goats Cheese & Fresh Figs
served with ​Rocket | Lemon & Honey Oil | Toasted Walnuts
Baily & Kish Organic Irish Smoked Salmon Salad
Celeriac | Fennel | Walnut Oil


Turkey & Ham
Chilli Cornbread | Carrot & Sweet Potato Mash | Green Beans
Traditional Irish Beef in Guinness
Turnip Crisps | Sweetened Carrots | Chef's Vegetables & Potatoes
Oven Baked North Atlantic Salmon
Rye & Horseradish Crumble | Craft Cider & Shallot Cream | Chef's Vegetables & Potatoes
(V) Vegan Falafel Salad
Homemade Tabbouleh | Hummus | Pickled Cabbage |Tomato Salsa


Chef's Vegetables | Side Salad | Onion Rings | Champ Mash | Homemade Chips | Skinny Fries
Portion €5


Chocolate Fudge Brownie
Salted Caramel Ice-Cream | Caramel Popcorn | Chocolate Sauce
Washington State Pumpkin Pie
Maple & Pecan Cream
Oreo or Malteaser Sundae
Chocolate Sauce

Speciality Tea & Coffee
From €2.50

Pink G&T
€9.50
Gordon's Pink Gin Aromatic Tonic & Fresh Strawberries
Irish Coffee
€8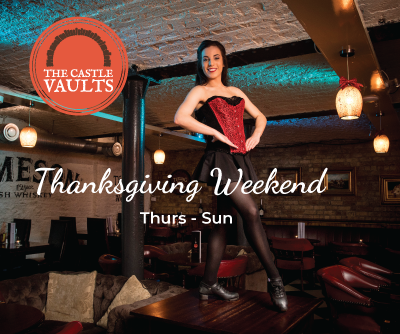 Join us at the Old Music Shop Restaurant and the Castle Vaults in the Castle Hotel, Dublin
this Thanksgiving Weekend for a night of great food and entertainment.
Thursday 28th - Dinner Set Menu from 5pm
Live Music from 9pm Downstairs in Castle Vaults Bar

We'll be serving our Thanksgiving menu across both restaurants all weekend from 5pm until 6:45pm
(28th/29th/30th Nov & 1st Dec)
Enjoy American favourites with a choice of Irish classics in our spacioius Georgian dining rooms. Our resident musician will celebrate Thanksgiving with some Americana songs alongside traditional Irish music.


Book with yvonne@castle-hotel.ie or Tom/ Trevor/ Alex on + 353 (0) 1 879 7888